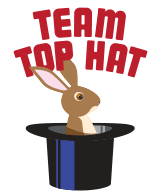 Introducing Team Top Hat Virtual Agency
Some projects call for a bigger stage with a bigger cast. When that happens,
Lucky Rabbit will find what you need in Team Top Hat, our virtual ad agency.

Just say the word and we'll customize a unique team to your unique project.
We'll pull together a cast of independent designers, writers and programmers.
Each one a creative star in his or her field.

Team Top Hat has all the speed, agility and value of working with
Lucky Rabbit Studio. But none of the overhead of a traditional agency.

Who's on your Top Hat team? Tell us about your project and find out.
Team Top Hat can help you with:
Integrated Campaigns
Annual Reports
Promotions
Marketing/Branding
Social Media
Conceptual Ideas
Brainstorming